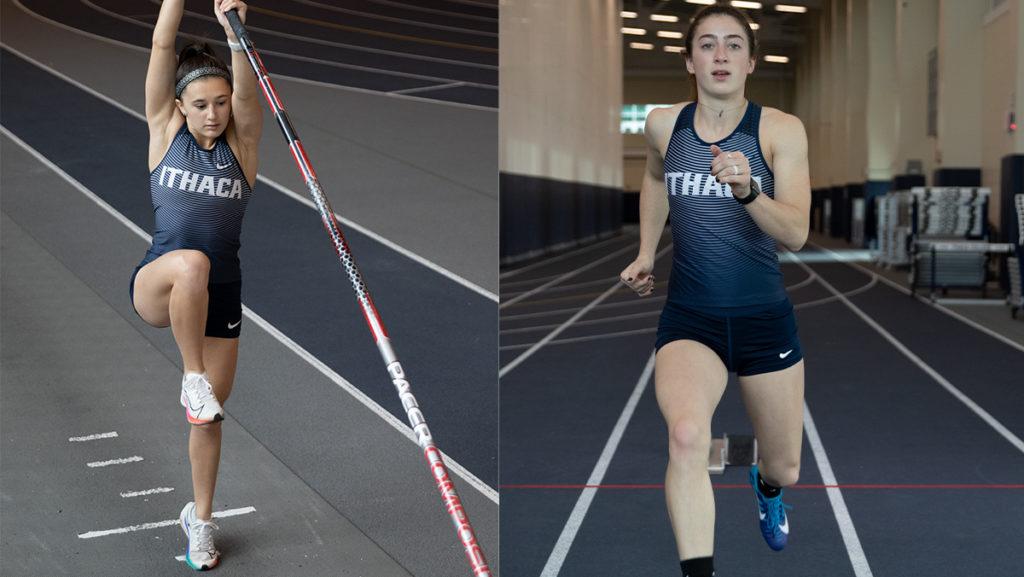 Women's athletics team builds on outdoor success
After a successful season in spring 2021, in which the bombers won national championships in three different events, the Ithaca College athletics team is returning for its indoor season.
The Bombers finished the outdoor season in fourth place at the NCAA Outdoor Championships last year, thanks to Parley Hannan '21, who won the 5,000 and 10,000 and seniors Meghan Matheny Place in the pole vault. Senior Logan Bruce also finished fourth in the heptathlon. The team also dominated the Liberty League's annual women's athletics awards: Hannan won Athlete of the year, Matheny won Field athlete of the year, student Sara Altonen won Co-rookie of the year and head coach Jennifer Potter, co-coaches Mary Wallenbeck, Erin Dinan and Matt Scheffler won Coaching Staff of the Year.
Although the team will have to replace Hannan and other key contributors who moved on after last season, Potter said the team has many returnees who are hungry to face the arena for the first time since 2020.
"I think they look forward to going back and going back to the national meeting in the hall as we were sent home on the day of 2020 [the meet]"Said Potter. "I think the returning group is strong, hungry and confident. I think something that really struck me about this group is that they don't talk about nationals, aAnd it's not like the elephant in the room. I think this combination, with these re-entrants and the incoming class, I think that we have a really strong group that is moving into the hall. "
Before the 2020 national indoor championships were canceled, the bombers finished their 13th conference championship in a row. The team had 10 athletes who qualify as well as the men's team with three other athletes. The 13 athletes combined were the most the college has ever sent to the NCAA Indoor Championships.
Potter said the team is designing its schedule for the year to treat the indoor season as preparation for it to peak in February and May. The team regularly conducts group activities like yoga and aqua aerobics to stay fresh and maintain the mood, as well as to build team chemistry. Potter said she believes the side activities will help the team this year, but she also believes that fewer COVID-19 restrictions will allow the team to compete at an even higher level than last spring.
"It's a little less worrisome that most of us are vaccinated, but we're all still taking precautions," said Potter. "Now, [the athletes] have the ability to at least be sociable and hang out with their friends, go to the farmers market or the apple [Harvest] Festival. But now the only ability to do other things, such as attending class, is in the physical presence of the academic world. The best thing about Ithaca is the hands-on experience. So I absolutely think their level of performance will be at a higher level just because they don't build all of these concerns on top of each other. "
Bruce, who is also the team captain, said activities like entering the pool were a great way to physically recover from workouts while relaxing and having fun with her teammates. She added that this was a great way to get to know the incoming freshman classes who quickly made a strong impression on the team.
"I think we have a really strong class for newbies, not just in terms of athletic skills, but they bring so much positive energy and good vibes to the team, basically it's really fun to train with them every day to go, "said Bruce. "You are so young and new. This is a really good group of freshmen. I am very happy to have her and be her senior and be her captain. They are just very young, eager – they try everything. They don't really shy away from a challenge and I think they will be a really key element of our success this year. "
The team is preparing to have a full year of athletics again as there was no indoor season in 2020-21 due to the COVID-19 pandemic. Brown said the upperclassmen helped the newbies adjust talent, but also to mentally prepare them for the season.
"I'm very honest with them and let them know how it's going," said Brown. "Basically, I'm not going to tell them things won't be difficult. I'm not going to tell them that they won't have to deal with injuries or mental challenges during the season, BBecause I think being honest with them, what I've experienced as a track and field athlete, will best prepare them for the season. But letting them know that it never stopped me and my teammates. So, it's something they just have to work through. "
Looking at the season, Bruce said her individual goal was to become national champions for both indoor and outdoor seasons in heptathlon and pentathlon. Bruce also said that she aims to set the school record in the 60 and 100 meter hurdles as well.
After a national singles title, Matheny doesn't have many people to chase after in the pole vault. For them, the bar is higher than any other in Division III in several ways. Matheny said she wants to repeat herself as a champion in the Liberty League Championship, the NCAA Regionals Tournament, and the NCAA Indoor Championships. Matheny said the team had similar ambitions for themselves, however.
"We placed nationwide last year and I think we just want to improve that," said Matheny. "I think we have a lot of people who are really ready to have really great seasons and to score at national level. Our ultimate goal is to win a national title every year. So, simply incorporate this way of thinking into our team culture, and just build on it and get everyone to set their goals as high as possible. "
The Bombers begin their season on December 4th at Cornell University's Barton Hall in the Greg Page Cornell Relays in Ithaca.