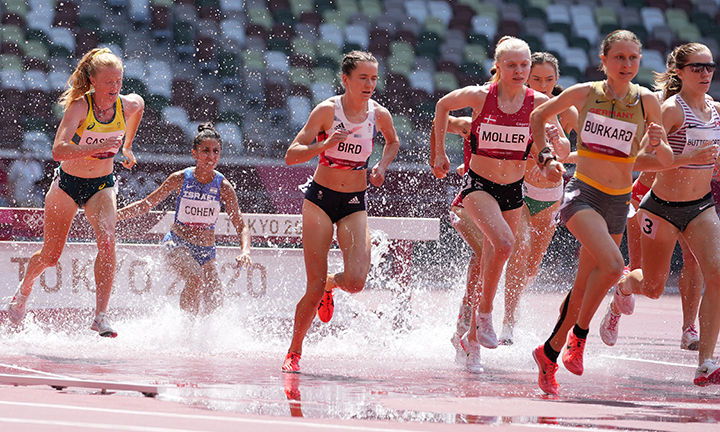 Tiger Olympians reach track finals, earn bronze medals in rowing
Brit Lizzie Bird '17 will compete in the women's 3,000 meter obstacle course on August 1 on the ninth day of the 2020 Tokyo Olympics, Japan.
Martin Rickett / PA Wire
Julia Ratcliffe '16 and Lizzie Bird '17 go to their respective finals in Tokyo
As the Tokyo Games entered their final week, two women's athletics alums led the Princeton Olympic squad by reaching the finals of their respective events. Julia Ratcliffe '16, a hammer thrower for New Zealand, who finished fourth in her qualifying group with a throw of 73.20 meters – 0.35 meters behind her personal best. The Hammer Throw Final begins August 3 at 7:35 a.m. Eastern. Great Britain Lizzie Vogel '17 ran the 3,000-meter obstacle race in 9: 24.34, finished fifth in her preliminary run and earned one of 16 places in the final, which will be held on August 4 at 7 a.m. east.
United States water polo goalie Ashleigh Johnson '17 chases her second Olympic gold after leading the American defense at the Rio Games five years ago. This year the USA suffered a rare defeat, 10: 9 against Hungary in the preliminary round, but still won their group with a 3-1 record. Johnson has averaged 11.75 saves and allowed 6.5 goals per game. The United States will face Canada in the quarter-finals on August 3 at 1 a.m.
Check out PAW's list of Tiger Olympians
Last week, Princeton rowers won the university's first ever medals at this year's Olympics. Denmark Fred Vystavel '16 and partner Joachim Sutton took bronze in the men without helmsman on June 28th. Tom George '18 from Great Britain also won bronze in the men's race on July 29th. Fellow alumni Nick Mead '17 the United States and Tim Masters '15 from Australia also competed in the men's eight finals and finished fourth and sixth respectively.
Three-time US Olympic champion Gevvie stone '07, a silver medalist in Rio, and partner Kristi Wagner finished fifth in the women's double scull on July 27th. Two more rowing alumnae – Hannah Scott '21 of Britain's double fours and Claire Collins '19 the US four – won the B final of their events and finished seventh overall.
In fencing, bachelor Mohamed Hamza '23 of Egypt had Princeton's best individual result, reaching the quarterfinals of the men's foil competition. Kat Holmes '17 and Anna Van Brummen '17 helped the United States finish fifth in the Women's Epee Team event while Eliza Stone '13 and the US women's team finished sixth in the saber.