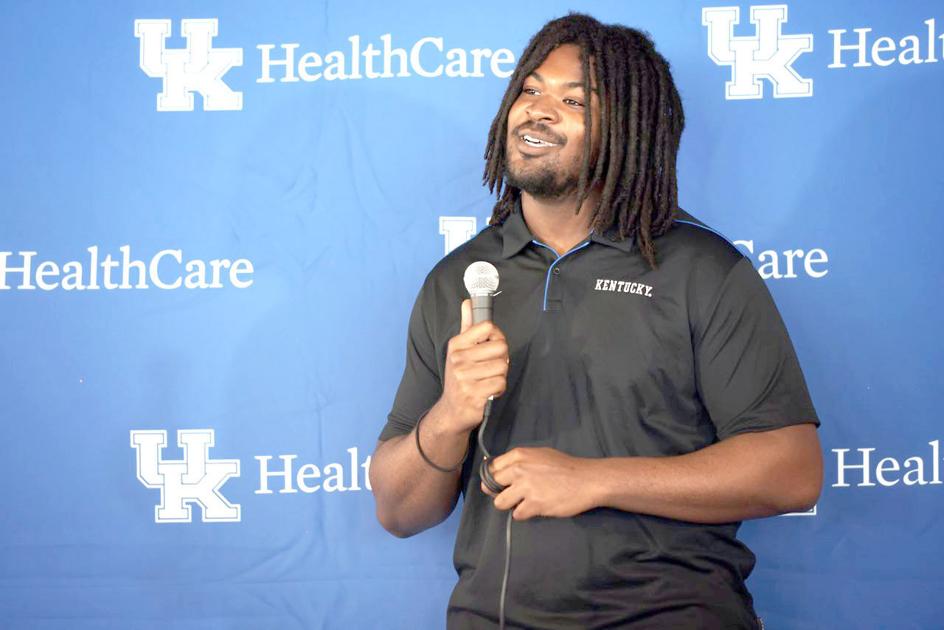 Horsey from Great Britain fought his way back into the field | Local sports
[ad_1]

It's been a long way back for Kenneth Horsey.
The University of Kentucky offensive lineman, who was entering his junior season with the Wildcats, wasn't sure what his college experience would be like – or even have one – after open heart surgery in 2018.
Horsey, a 6-foot-3,300-pounder, was just finishing his senior year of high school in Sanford, Florida when he suffered from serious and worsening abdominal pain during family dinner on April 1. After a call to 911 and a number of tests, doctors diagnosed Horsey with endocarditis, an infection of a heart valve that can cause problems throughout the body.
Two days later, doctors were able to easily remove a growth from Horsey's heart – a solution that allowed him to continue playing football.
"I already signed with the UK to play football, I had a prom in a couple of weeks and should graduate next month," recalled Horsey. "I just had to rely on my belief in God to keep me going, to keep myself strong."
After spending two weeks in the hospital, Horsey was released to begin rehabilitation, a process that lasted through June until the start of his career in Kentucky.
"I couldn't lift anything over five pounds for weeks," said the former three-star recruit. "I gradually worked my way back up, but only to about 25 pounds after eight weeks."
When Horsey arrived in Lexington 50 pounds lighter after his ordeal, his rehab and training jumped to a whole new level. He started on a stationary bike to see what his heart could take before switching to other cardio machines and finally running after a few weeks.
British doctors were careful at first.
"In addition to his cardiovascular disease, you have to keep in mind that he came into college as a freshman and is learning a very different kind of exercise," said Gabe Amponsah, UK director of athletics for sports medicine and senior athletic coach for British football. "The transition from high school to college soccer practice is intense.
"He deserves praise for his hard work. He has come a long way, which has not always been easy, and he still impresses us with his persistence and determination to fight his way through adversity. "
After doing a Redshirt in his first year in Lexington, Horsey appeared in four games as a Redshirt novice in 2019. The final season, however, was his breakout campaign, when Horsey started in eight games – battling a broken hand and missing the final two games after contracting COVID. 19 – and was named one of three winners for the Mayo Clinic Comeback Player of the Year Award 2020.
Now that he's preparing for his junior year with high expectations, Horsey is an advocate for heart health and wellbeing. He and teammates Luke Fortner and Joshua Paschal recently partnered with UK HealthCare to learn how to use CPR in the event of cardiac arrest.
"When you have the opportunity to save someone's life, when you have the opportunity to play on the field, in life you have to be able to take that risk, take that leap, and trust your training just like you can we do the field, "said Horsey. "… At first I didn't want to be the type who was known to have heart surgery. I didn't want to be labeled that guy, I just wanted to fit in with the other guys and just be able to train with the rest of the team.
"What I realized from Coach (Mark) Stoops and Coach (John) Schlarman – rest in peace – is that no one creates a legacy by fitting me in. It is not my job to adapt. It is my business to be myself, and I am Kenneth Horsey, college student, athlete, brother, son and friend, soccer player, scholar and happens to be a heart survivor.
"Sometimes I just press on that (surgical) scar to remind myself of the things I've been through, to be grateful for all I have and to be blessed with the opportunity that has been given to me."
[ad_2]