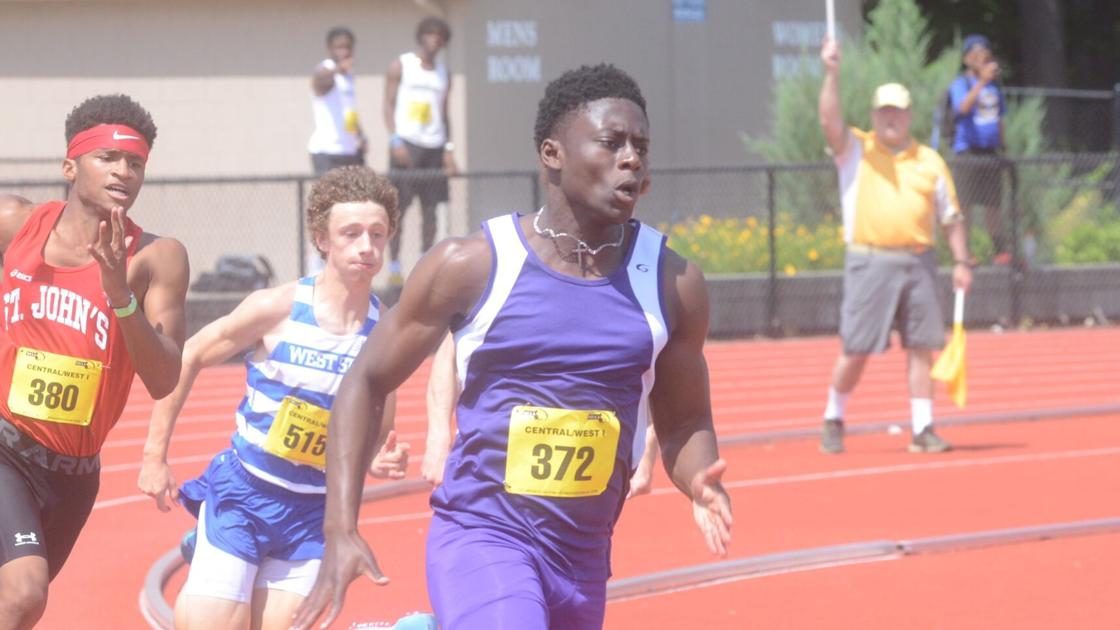 Central / Western Mass. Athletics: Pittsfields Nda, McCandless take home championships | Local sports
WESTFIELD – The Pittsfield Track and Field coaches deliberately requested an early bus for Day 2 of the Central / Western Massachusetts Division, which I am meeting on Saturday.
With Senior Emmanuel Nda attending the 200, one of the first events of the day, the coaches wanted to give generals enough time to prepare before facing some of the best talent in the state.
After the meeting, Nda said the opportunity for a long warm-up really helped his performance. There is no reason to take your word for it on this matter. Instead, check the results.
Personal bests in the 100 and 200 meant Nda returned to Berkshire County with some new hardware. It took Nda just 10.8 seconds to cross the finish line in the 100th race, an achievement with a gold medal. The senior, who pledged to play DI football with Army, posted a 2/11 time in qualifying to lead all runners. Later in the day, Nda shaved 0.22 seconds for a new PR.
In the 200, Nda won a silver medal with a time of 22.38, just behind Westfield's Shea Drugan, who won the race in 22.13 seconds.
"This is only my third meeting of the year and for the PR in the 100 and 200 it's a great feeling," said Nda. "I'm just happy to be out here with my teammates."
Speaking of generals: Meredith McCandless took home the gold by throwing a javelin in the first part of the meeting on Thursday.
"There are so many good girls on my team and in Berkshire County who throw good and hard. I was just excited to qualify and then I was told I was the top seed and I got nervous," said McCandless . "I just relaxed in my house that day. My coaches told me to just be careful and sleep well."
McCandless entered the meeting with a 109-foot, 4-inch throw that she hurled in front of the Sectionals at their last local meeting in Taconic Monday. This sign was a PR. On Thursday she made her three litters and made it into the final with eight other girls, including PHS colleagues Dakota Grosz and Sasha Grosz.
"We all practice together this summer and I was really excited to go out with them," said McCandless, who is a PHS graduate and a business graduate at UMass Amherst. "We were both just hoping to get to the States to keep going."
On her first throw, McCandless launched her javelin 103-08. When the dust cleared, no one was closer than three feet to her. With a win in hand, McCandless said she could relax and hang out with friends after really relaxing a few nights before the championship.
"It was a shock," she said. "My two coaches; Coach Ambrose just taught me to be a good, disciplined, hard-working athlete. Coach Weeks, he's not officially our coach, but he's thrown WPI and he puts hours and hours into helping us all." . and we've seen such enormous gains. "
Since the meetings are split over two days, the audience and atmosphere are not exactly what the athletes remember two years ago.
"When I came here as a junior high school student, I was quite nervous about the crowd," said Nda. "I didn't mind the smaller amount, it allowed me to concentrate more."
Seniors have already graduated, but the Western / Central Mass. The meeting, along with the national meeting, is a final opportunity for these athletes to spend time with their teammates.
"It's a brotherhood," Nda said of the generals. "We all love each other and we push ourselves every day in practice.
"Sprinters work with the truckers to get better training. We're just one big family."
Nda may have been the only general to claim gold, but Pittsfield made his presence known with two more podiums. Sincere Moorer was placed third in the triple jump but tumbled to second place with a jump of 42 feet 9 inches. Kieran Coscia followed in the footsteps of Nda and Moorer and won a silver medal that day. With a distance of 135-10 Coscia took second place in the discus throw. Lucas Benoit finished ninth in the 110 hurdles heats in 17:28 just outside the last field.
On Thursday the PHS boys were well represented by Anthony Telladira and crew. Telladira, a junior who just got the 800s this season, finished seventh with a time of 2: 05.71 and scored a few points for the generals. Peter Breitmaier also drove in 2: 10.92. Jack Archey finished the 2 mile in 10: 50.32. Pittsfield's 4×800 relay with Breitmaier and Telladira as well as Quintin Coughlin-Walton and David Babineau for an 8:48:05 pm to finish sixth with three points.
The Pittsfield boys finished sixth as a team with 39 points. Westborough won with 90.33 in a 26-man field.
On the girls' side, McCandless wasn't alone in Westfield. The generals sent Randi Duquette to a number of competitions, including the 100, where she finished 11th in the heats, and the high jump. She also anchored the 4×100 team with Tess Tierney, Cece Supranowicz and Jamie Duquette, who finished fifth with a season best of 52.72.
The 4×400 team also finished fifth and took another four points home. McCandless anchored that crew with Lyndsay Vosburgh, Ferris, and Ava Telladira to get the thing started. They were clocked in at 4:29:54 p.m.
On Thursday, Sydney Ferris was 12th and Hailey Rumlow was 19th in the 800th. Dakota Grosz was seventh in the javelin throw, while Sasha Grosz was 12th.
The PHS girls took 16th place out of 26 teams with a total of 20 points. Algonquin won the meeting with 133 points.