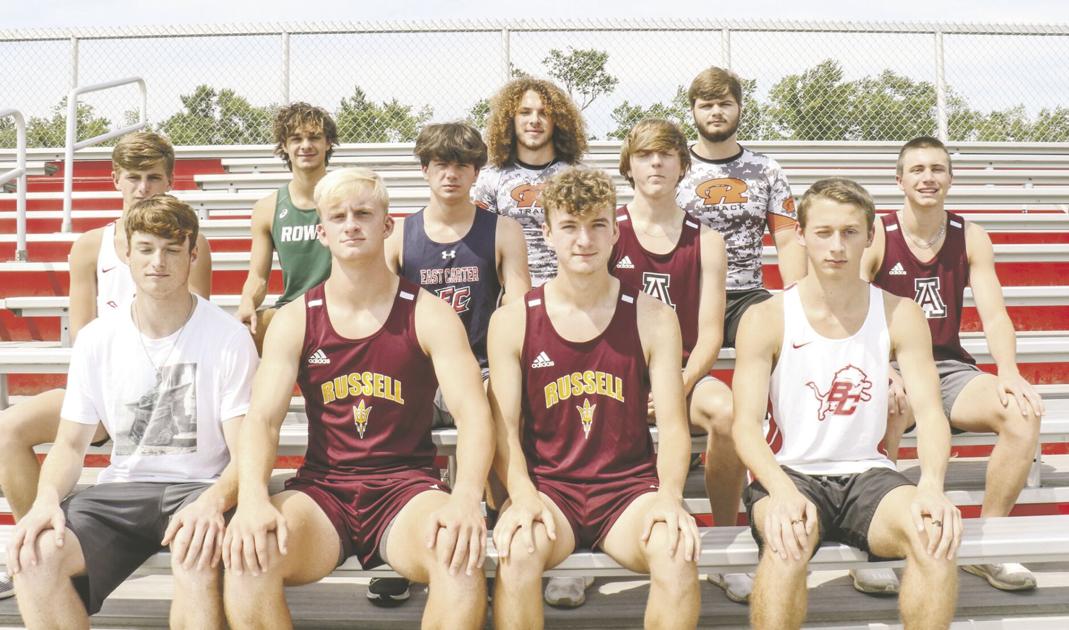 2021 The Daily Independent Boys All-Area Track and Field: Terrill, Russell finish strong | Sports
CANNONSBURG JB Terrill was glad people noticed what he was doing.
The Boyd County's junior runner was named Daily Independent Athletics All-Area Athlete of the Year for Boys in part for winning the state's 2A class of 800 meter run in a state record of 1: 54.25.
"I was very excited because since we didn't have a year last year, being on the team at all was a big deal for me," Terrill said in a phone interview from Knoxville, Tennessee, where he was on the All-Area date – Photo shoot in Boyd County to attend a regional AAU meeting. "We have a lot of competition in our region."
Terrill's state title was the culmination of how he dominated the local middle distance running. He usually showed the back of his jersey to his competitors: he won the 800 and 1,600 meter races of Region 6 and was part of the Lions' regional 4×800 and 4×400 relays.
"He's a great runner," said Russell coach Lee Evans. "He's a future college runner, no doubt about it."
Sophia Newsome, a junior from Boyd County, considers Terrill a teacher and motivator.
"He's pretty confident and I can get a little bit down," said Newsome.
Russell's Davis Brown was closest to Terrill; he chased him most of the time.
"He's very impressive," said Brown. "He's really good."
Brown recalls the Region 800 run where he ran a personal best of 1: 57.60.
"I was almost everything on (Terrills) shoulder by the end," Brown said. "In the end it was a 100-meter sprint."
Evans is retiring
Evans is Coach of the Year after leading the Red Devils to the Class 2A, Region 6 team title in his ninth and final season.
"Of course it's always a great honor," said Evans. "One thing I've always found over the years – you're only as good a coach as you are an athlete. We've had a lot of good ones this year.
Evans trained for a total of 25 years, including stints in Boyd County and Ashland. The 2021 Class 2A Region 6 title was Russell's third title under his leadership. (The others were 2015 and 2016.)
Evans retired from history class in 2019. He will continue to be the assistant coach on Russell's football team with his son Lance Evans.
"Being a retired teacher made it a lot harder to be a head coach," said Evans. "I just have the feeling, No. 1, that the time is right. God made me do some other things. "
Evans said a new job and responsibilities at Second Free Will Baptist Church in Ashland were factors in his decision. He believes that in athletics, being at school every day to recruit new athletes and encourage your teams is more important than football.
Playful controversy
The question: How many people did Ashland graduate Thomas Skaggs tell about his class 2A pole vault championship?
"I went to the beach in State," Skaggs said, "so it wasn't number one on my mind."
A millisecond after Skaggs said that, Kittens sprinter Lillian Sebastian offered an alternate view.
"He told everyone that he was national champion," said Sebastian.
Raceland's Hunter Correll and Will Nichols also formed the team. Correll set a personal record of 46-10 in the shot put, finished second in the Class A discussion (145-11), and came third in the State shot put (45-9).
"I made the first-team all-state team in discus shooting and the second-team all-state team in the shot put," Correll said. "My main goal throughout my high school career has been to be some kind of state champion.
"But now, when I think about all the things I've done from year one to last, I'm pretty happy with what I've done."
Nichols was fifth in the long jump (20-1), seventh over 110 hurdles (16.26) and eighth over 300 hurdles with a PR of 42.31.
Rowan County placed five on the All Area Team – Louis Hayes, Brien Hill, Rocky Miller, Jonah Stanley, and Landon Raines. Stanley won the 2A Region 3,200 in 10: 33.35 minutes.
Russell finished fourth: Brown, Tyler Harless, Matthew Jones, and Doug Oborne. West Carter also added four: Leetavious Cline, Connor Greene, Gage Leadingham and Kaden Wilson.
Greenup County's Trenton Hannah won the Region 2A discus title and finished second in the shot put.
Chris Thornburg was the second Ashland representative and Kanyon Kozee represented East Carter.
The all-area athlete and coach of the year were chosen by the newspaper's sports department. The team consists of top finishers from northeast Kentucky in each event as well as athletes who have placed near the top in multiple events, MileSplit reports.